The choice of flooring is an essential point when creating an interior. Among the various options available, the sol PVC (polyvinyl chloride) is a highly popular choice due to its many benefits. Indeed, the PVC coating offers multiple possibilities, whether in terms of style, durability or ease of maintenance.
Let's find out together the advantages of PVC flooring in interior decoration and why it can be a great choice for your project.
A wide variety of styles
PVC flooring offers great versatility in terms of styles and designs. It is available in a wide range of colors, patterns and finishes, allowing you to choose the one that best suits your style and the mood you want to create. It will also find its place in all the rooms of the house.
Indeed, the PVC coating offers a realistic imitation of many natural materials such as wood, stone and tile. Thanks to technological advances, it is now possible to have a PVC coating that authentically resembles wooden parquet with realistic graining and textures. This helps to create a warm, natural ambiance in any room, without the inconveniences and high costs associated with natural materials.
You can also use patterned PVC flooring to add a touch of personality to a room or to create a bold statement in a more neutral space. Some models imitate cement tiles to perfection!
Another creative way to use PVC siding is to use it to outline specific areas in a room. For example: in an open living room, you can use a imitation parquet PVC floor relaxing side and a waxed concrete imitation floor dining room side. This helps create an interesting visual separation while maintaining consistency throughout the space. However, be sure to choose flooring that complements each other and creates a seamless transition between different areas.
PVC coating: strong resistance and durability
One of the major advantages of PVC flooring is its resistance and durability. It is designed to withstand daily wear and tear, scratches, stains and light impact. Thanks to its robust construction, it is ideal for high traffic areas, such as hallways or kitchens. In addition, the PVC coating is moisture resistantwhich also makes it an excellent choice for bathrooms.
Comfort and soundproofing
PVC flooring also offers advantages in terms of comfort. It has a soft and slightly elastic surface, which makes it very pleasant to the touch, even when barefoot. Moreover, he has soundproofing properties, reducing footsteps and ambient sounds. This makes it an ideal choice for bedrooms, living spaces and offices, where comfort and quiet are really important.
The ease of installation and maintenance of a PVC floor
PVC flooring is renowned for its ease of installation. It can be laid over most existing surfaces, provided they are clean, flat and dry. For this, we advise you to refer to the recommendations of the brand you have chosen.
In addition, it requires little maintenance: a simple regular cleaning with a vacuum cleaner or a mop is usually sufficient to maintain its appearance and its durability over time.
Le sol PVC est budget-friendly
Compared to other floor coverings such as solid parquet or tiles, PVC flooring is generally more affordable. It offers an economical solution to get the look and quality you want without breaking your budget. Plus, it has an extended lifespan, making it a worthwhile long-term investment.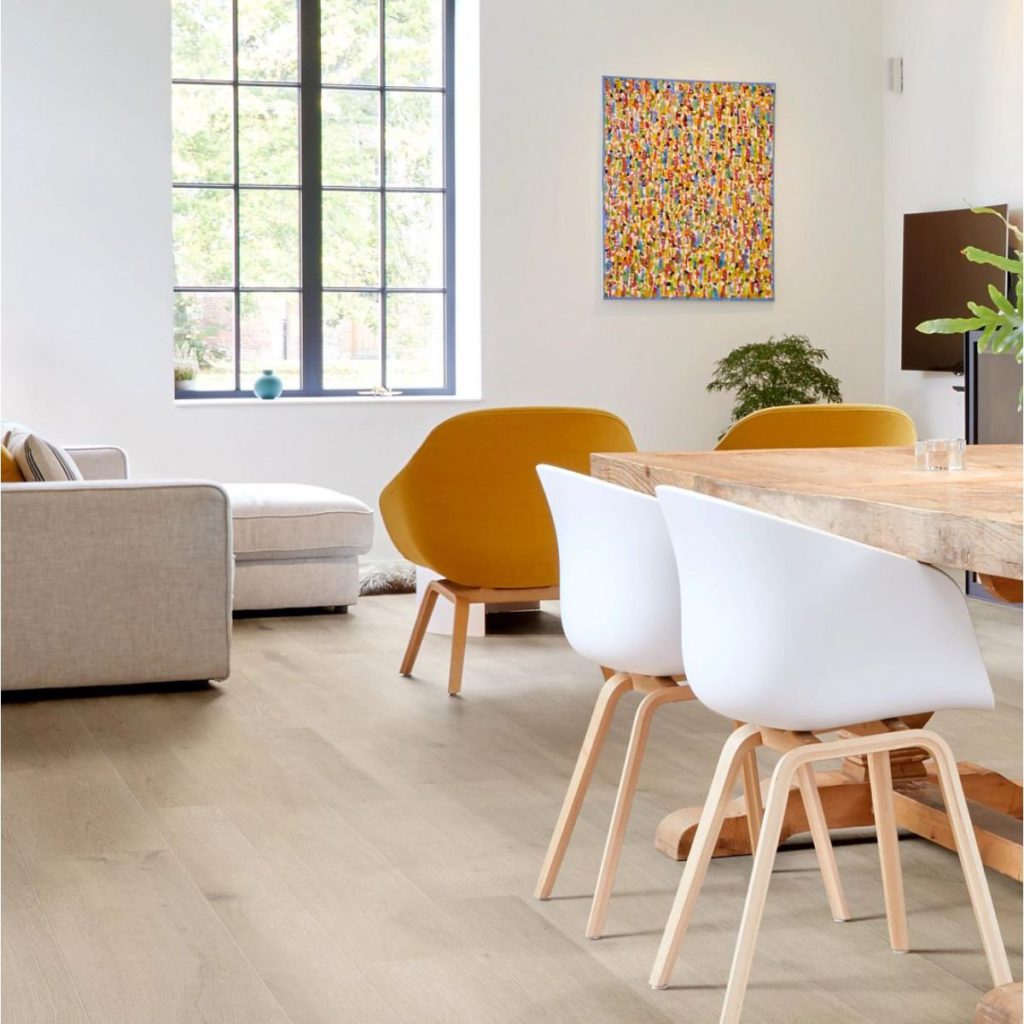 To conclude, we can say that the PVC floor has many advantages for the decoration of your interior. Whether you are looking to renovate your home or furnish a new space, it will meet all your needs, in all rooms of the house.